Track DTDC Packages & Courier Status. Know your DTDC Courier tracking. Enter DTDC AWB/ Consignment in Input box and press Track to know your parcel status from DTDC.

– DTDC Courier
What is DTDC Package tracking ?
Its Process of checking status of Package and couriers sent through DTDC company located in India. DTDC E-Tracker is an internet based utility which empowers consecutive tracking coordination among DTDC and the client. This is primarily valuable for E-empowered clients, whose backend framework is prepared to the point of incorporating at framework level.
How to track DTDC Couriers & Package ?
One can track packages from DTDC by the following options:-
By SMS Tracking
E-Tracking From DTDC
Third Party API / Apps
DTDC SMS Tracking Method :-
DTDC SMS Tracker is a SMS-based solution wherein our customer can avail multiple services just by sending the predefined keywords to a designated mobile number. Services such as Consignment Tracking (Domestic & International), Pin-code serviceability and City serviceability are provided through SMS Tracker:-
To Track your Shipment Type 'TRACK<space>Consignment Number' and send SMS to 9230092300 (Example: TRACK B22399923).
To Check pin-code, Type 'PIN<space>Pin Code' and send SMS to 9230092300 (Example: PIN 700019).
To Check Serviceable City, Type 'CITY<space>City Name' and send SMS to 9230092300 (Example: CITY Agra).
Disclaimer: The City and Pin-code serviceability features will address whether DTDC has presence/ reach to the specified city/ pin-code for its Lite products. Serviceability does not imply availability of all products and services in the city/ pin-code.
E-Tracking From DTDC (https://www.dtdc.in/)
Officially , Everyone should us DTDC online tracking from www.dtdc.in. We are also fetching data from them in legal API through third party which safe practice. Lets check out the look how that looks like :-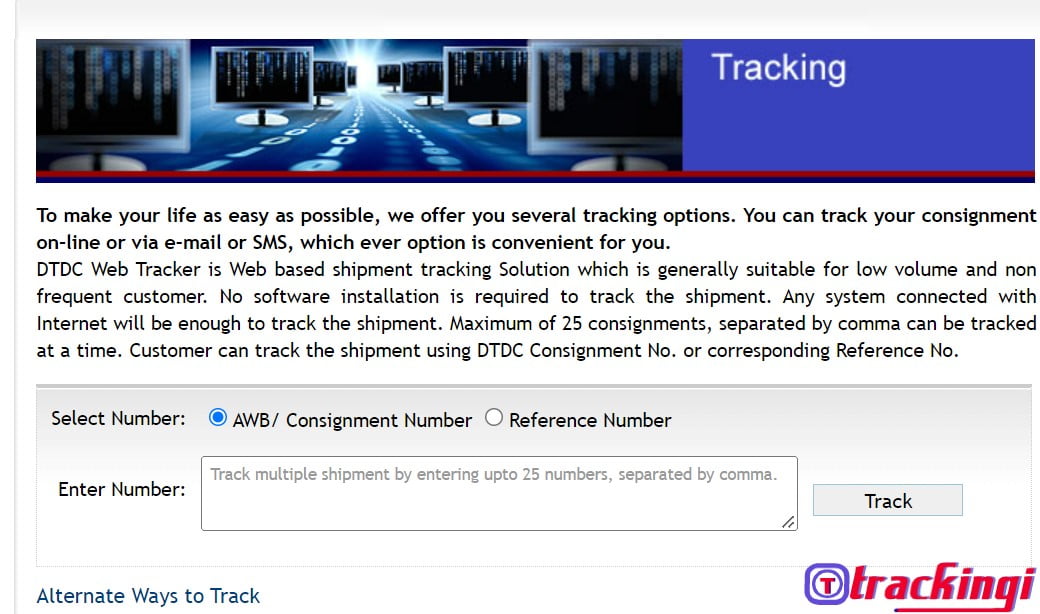 Features of DTDC Online tracking :-
DTDC online Tracker is Web based shipment tracking Web App Solution which is generally suitable for low volume and non frequent customer
No software installation is required to track the shipment.
Maximum of 25 consignments, separated by comma can be tracked at a time.
Track via corresponding Reference Number supported.
Shipments can be tracked for a period of 90 days from the date of dispatch.
You may track the status of the domestic / international shipments by Airway Bill or Reference number.
Guideline (Process) while tracking DTDC Courier Online :-
Choose either Airway Bill or Reference Number selection. (DTDC.in)

Enter the required Airway Bill or Reference number by using 'Tracking' box on the top, left side of the web page or the Tracking page.

To track multiple shipments, you can enter up to 25 Airway Bill or Reference Numbers separated by a comma.(DTDC.in)
After entering your Airway Bill or Reference Numbers click on "Track" button to receive the latest updated status of your shipment.
Need Support From DTDC Courier ? (Submit Ticket for Support)
If you want raise support from DTDC or want official write to right person then go that port https://support.dtdc.com/support/tickets/new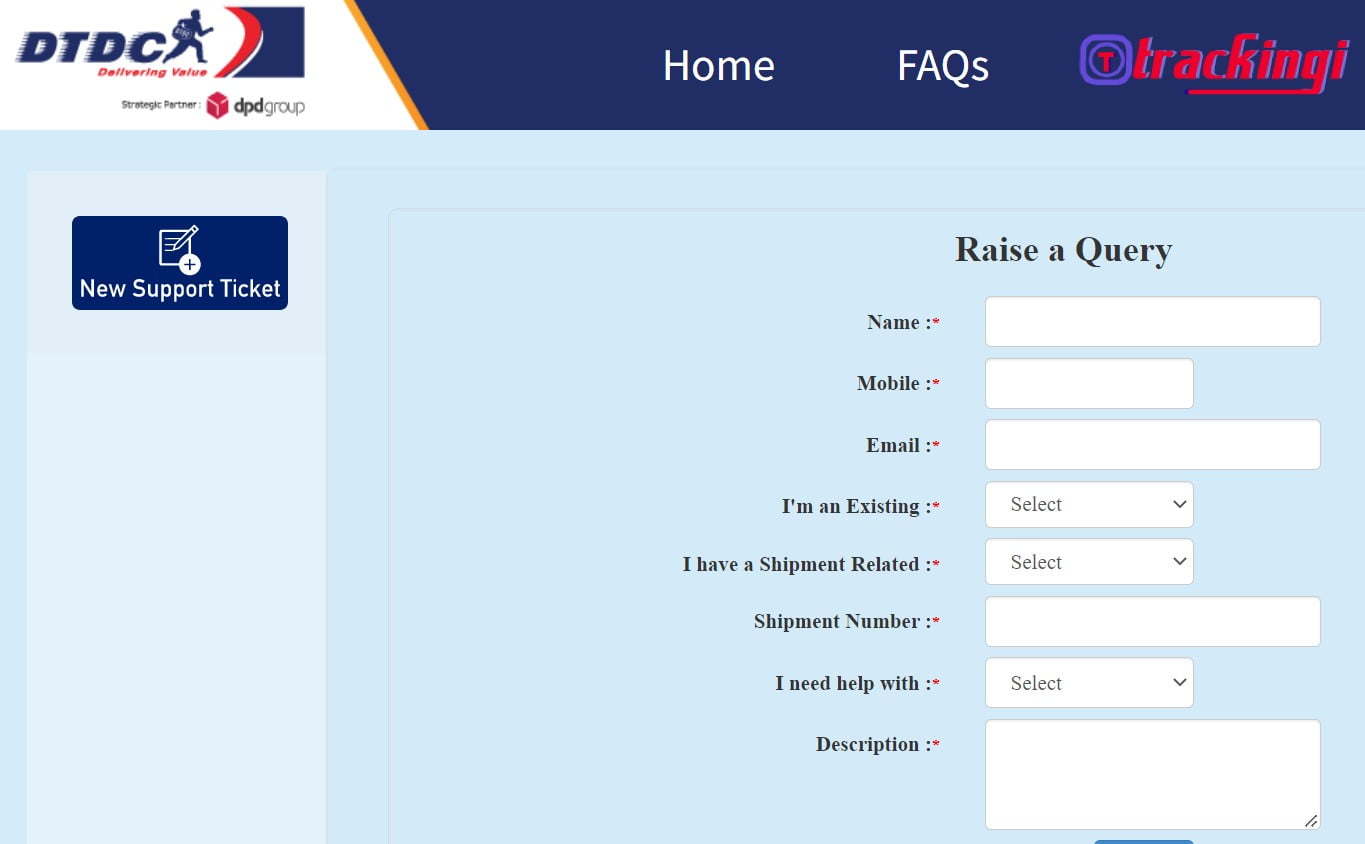 Call DTDC Customer care in India ?
| | |
| --- | --- |
| Location | Contact Number |
| DTDC Ahmedabad | 7305770577 |
| DTDC Bangalore | 7305770577 |
| DTDC Chandigarh | 7305770577 |
| DTDC Chennai | 7305770577 |
| DTDC Delhi | 7305770577 |
| DTDC Ghaziabad | 7305770577 |
| DTDC Hyderabad | 7305770577 |
| DTDC Jaipur | 7305770577 |
| DTDC Kolkata | 7305770577 |
| DTDC Mumbai | 7305770577 |
| DTDC Pune | 7305770577 |
DTDC Call Center in India