DHL Express tracking, at Trackingi.Com provides real time DHL express international waybill tracking via tracking number and DHL express tracking API. Here's the fastest way to check the status of your DHL shipment. No need to call Customer Service – our online results give you real-time, detailed progress as your shipment speeds through the DHL network.
DHL Express Tracking
Enter DHL Express tracking number to track DHL Express shipments and get delivery status online at Above Tracking Box.  DHL Express allows you to track your DHL express shipments using a personalized  DHL Reference Number. Adding this reference on your waybill allows DHL account holders to differentiate shipments on their monthly invoice.A tracking number or ID is a combination of numbers and possibly letters that uniquely identifies your shipment for national or international tracking.
Usually, the shipper or online shop is able to provide the tracking number or ID. If you have ordered a product in an online shop, the confirmation email or shipment tracking notification often contains the tracking number or ID.
If not, please contact your shipper or online shop.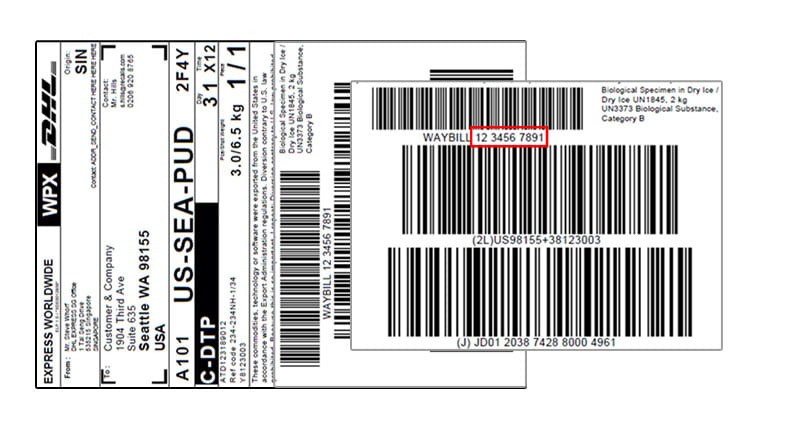 How DHL Express Tracking Works ?
You can either use DHL's Official website or many other carrier tracking provider. Please make sure you entered the correct tracking number in the correct format (explanations and examples of national and DHL international tracking number
By DHL Express Tracking Number :- Simply enter your 10-digit DHL Express shipment number for the current status of your shipment. This way you will know exactly where your package or document is located.
DHL Express Reference Number :- You have the shipper's reference number, You can use our online Shipper's Reference Tracking service.
DHL Express Tracking Alerts :- You can also receive a notification via e-mail or SMS when your shipment reaches a certain phase, up to and including the signature of the recipient.
DHL Express Tracking Format
The DHL Express Waybill for Time Definite shipments is a 10 digit numeric number (e.g. 1234567890, 2345678901), so please recheck the number and try again.
10 digits numerical only
OR starts with 000, JJD01, JJD00, JVGL or similar.
Examples: 1234567890 or JJD0099999999
DHL Express Contact
DHL Express USA : 1-800-CALL DHL : Directl Connet On (1-800-225-5345) : This phone number is for customers calling within the United States to schedule a pickup, track a shipment, get a transit time and rate quote, find a drop off location or ask about something else.
DHL Express  Opening Hours  (US):-

| | |
| --- | --- |
| Monday – Friday | 5:00 AM – 7:00 p.m. AZ Time* |
| Saturday | Closed |
| Sunday | Closed |
About DHL Express
DHL is part of the world's leading postal and logistics company Deutsche Post DHL Group, and encompasses the business units DHL Express, DHL Parcel, DHL eCommerce, DHL Global Forwarding, DHL Freight and DHL Supply Chain.
In 1998, Deutsche Post started to get shares in DHL. It arrived at controlling enthusiasm for 2001, and gained every exceptional offer by December 2002. The organization at that point assimilated DHL into its Express division, while growing the utilization of the DHL brand to other Deutsche Post divisions, specialty units, and backups. Today, DHL Express offers its DHL image with specialty units, for example, DHL Global Forwarding and DHL Supply Chain. It increased a decent footing in the United States when it obtained Airborne Express.
DHL Express's global headquarters are part of the Deutsche Post headquarters in Bonn.
Headquarters for the Americas are located in Plantation, Florida, USA, while its Asia-Pacific and emerging markets headquarters are located in Singapore, Malaysia, Hong Kong, and China. The European hub is in Leipzig, Germany.
Most of DHL Express' business is incorporated as DHL International GmbH.
DHL Express Vs USP, Fedex & USPS
DHL Express competitors include FedEx, UPS and national post carriers such as United States Postal Service (USPS) and Royal Mail. However, DHL has a minor partnership with the USPS, which allows DHL to deliver small packages to the recipient through the USPS network known as DHL Global Mail, now known as DHL eCommerce. It is also the sole provider for transferring USPS mail in and out of Iraq and Afghanistan.
DHL offers worldwide services, including deliveries to countries such as Iraq, Afghanistan and Myanmar (formerly Burma). As it is German-owned, DHL is not affected by U.S. embargoes or sanctions and will ship to Cuba and North Korea. However, there are strict codes for delivering to North Korea, as the country has shaky relations with the West.
As DHL is no longer a United States company, it is not allowed to make domestic flights between U.S. airports. DHL contracts these services to other providers
Track Packages From DHL
You can Use our Free and Captcha Free tracking tools for DHL package tracking. With our Package tracking tools you can get real time Event to event data about yourDHL shipment, DHL Packages and DHL Parcels .
Our DHL tracking API Benefits
With our Service, visitor can get fast packages status of DHL directly. Developer can contact us to use our API for direct access with our trackingi.com Project.